REPORT AND SUPPORT
Report
Engage key stakeholders by reporting on emissions milestones on your journey towards net zero. Discover how you can use your data to maximise commuters emissions reduction long-term.
Start your Zero Carbon Commuting journey today
The Mobilityways Dashboard
Access each of your Mobilityways products and commuter emissions data in one place.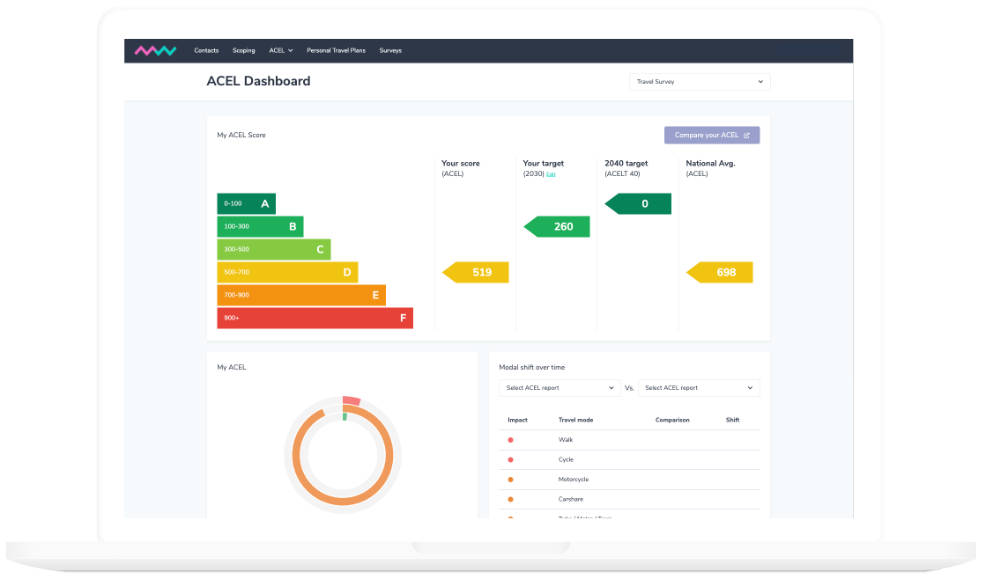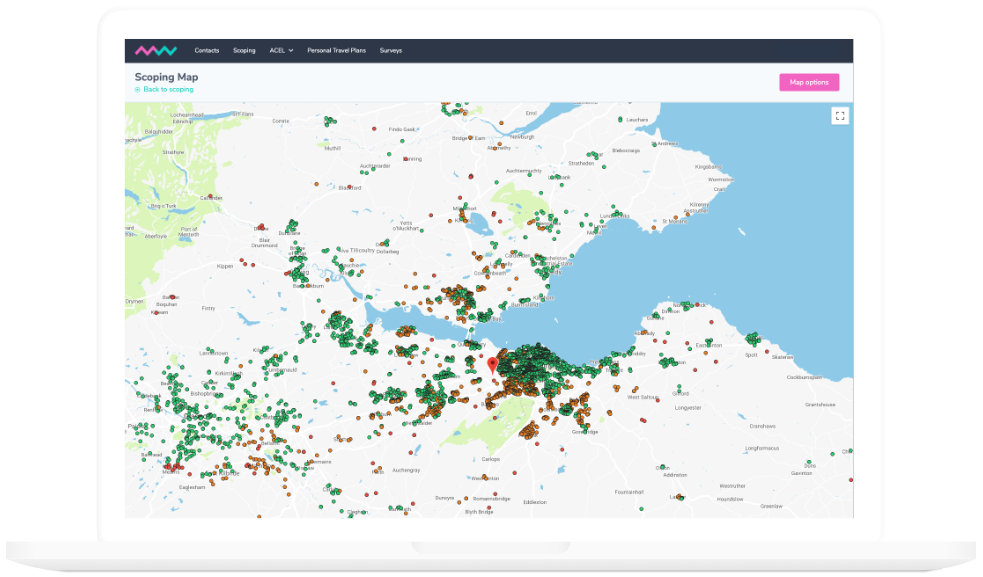 Understand complex commuting data at a glance with engaging and accessible graphics.
Smoothly navigate between your Measure, Reduce, Report tools to gain a full picture of your sustainable commuting challenges.
Limitless contact management
Bulk upload and house all of your contact data safely in one place. An entirely scalable solution serving enterprise employers.
Mobilityways is the only software solution dedicated to decarbonising the commute.
Changing personal behaviours to reduce carbon emissions isn't a strong enough argument in and of itself for some to change deeply ingrained commuting behaviours. You need to make it personal to people. You need them to understand how to make the switch.
Paul Chandler, Deputy Director of Net Zero Travel & Transport, NHS England
ACEL Certification
ACEL© (Average Commuter Emissions Level) is the only standardised methodology for benchmarking and comparing commuter emissions over time. Showcase your commitment to reducing your CO2e with ACEL Certification.
ACEL Certification recognises a continuous improvement in commuter emissions working towards your net zero goals. Employers who demonstrate a 5% reduction in their ACEL over the course of 12 months are awarded ACEL Certification.
ACEL Certificate
Celebrate your achievement with your team by proudly displaying your ACEL certificate in your offices. Highlight your environmental credentials online with a digital ACEL badge for your online materials.
ACEL Certification Report
A comprehensive report detailing how you achieved your CO2e reduction through analysis of your workforce's commuting behavior. Identify further opportunities to work towards Zero Carbon Commuting.
Promotional Assets
Engage others on your net zero mission by sharing your achievements online. Mobilityways will provide you with free promotional assets and support to highlight the positive environmental impact of your sustainable commuting initiatives.
Estimate your ACEL© for your organisation
By working with large employers and analysing the commuting options of thousands of employees, we have been able to make data-based recommendations particularly around utilising shared transport and active travel. It is hoped this will help employers make transport to their sites more sustainable and reduce the number of single-occupancy car journeys made by their employees.
Lorna Finlayson, Scotland Director, CoMoUK
Stakeholder workshop
Get expert advice and support to accelerate your progress.
Our experienced Commutologists are behaviour change experts that will help stakeholders at all levels of your business understand and celebrate your commuter emissions milestones.
Utilise their behaviour change expertise to develop a series of interventions that will support you on your journey to Zero Carbon Commuting.
Speak to a Commutologist
Get in touch now
Tell us a little more about your company, and we'll call you back.